Today I revised the design of the hobo stove that I made yesterday from a coffee can. I flipped the can back over and made a top for it from some 1/2" mesh hardware cloth I picked up today at Lowe's. ("Cloth" is a bit of a misnomer. It's made from galvanized steel mesh.)
Before lighting, I loaded the stove with some crumpled paper, a couple pieces of fatwood, some twigs, and a wad of dryer lint. The dryer lint ignited with one strike from my fire steel. I quickly added more twigs and a pine cone, and placed the hardware cloth top on the stove.
The first shot here shows the front of the stove with the new top, after lighting.
Next, we can see that today, I was actually able to get water to boil.
Finally, I decided that since it was a little chilly and I had my possibles bag outside with me, I'd make up a cup of chicken boullion. The cup is an Olicamp Space Saver, which fits over the bottom of a 32 oz. Nalgene bottle.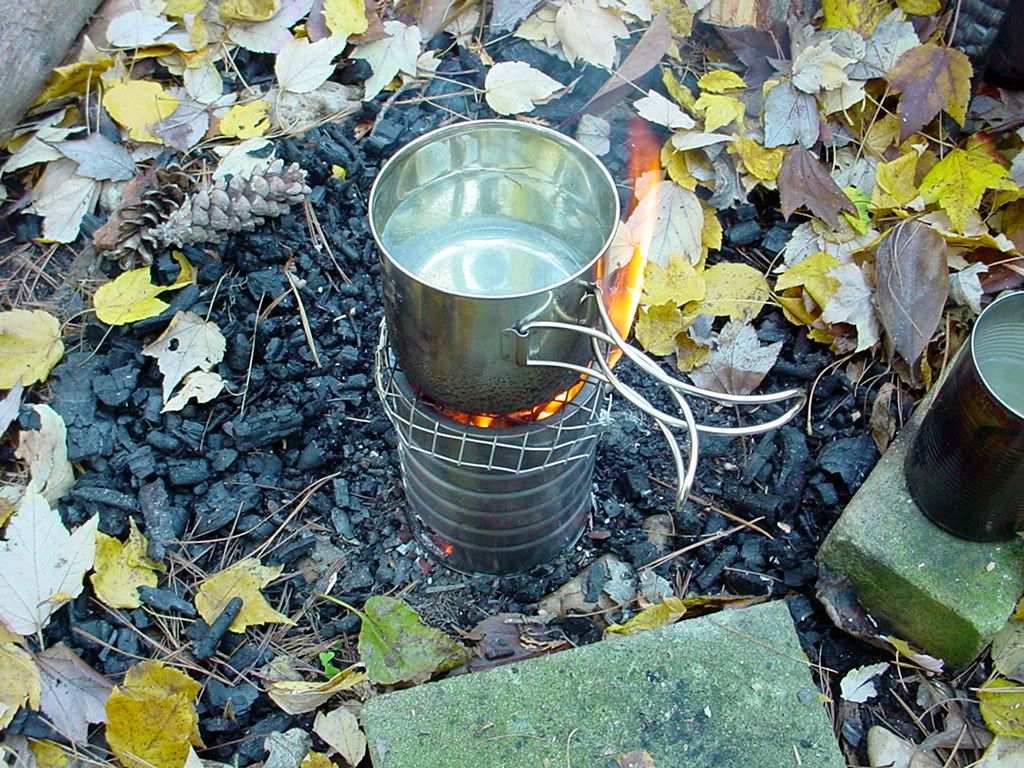 So, this is definitely an improvement over yesterday's attempt. It'll burn pretty much anything you can fit inside. Due to the size, you have to feed fuel in frequently, but it seems to burn fuel pretty completely and not leave much ash behind. I'm very interested to see how it performs with charcoal briquets. Assuming it works well with them it would make a good little emergency stove for home owners or apartment dwellers with patios, since it should be more efficient than a charcoal grill for boiling water.
The stove's exhaust vent is large enough to feed fuel into, but I think I'll enlarge the bottom front vent, to let in more air, and to allow me to shove sticks into the bottom of the fire. (This time I'll use snips or my Dremel, to save the edge on my knife.)