I just picked up a couple new traditional knives from SMKW.
(Click thumbnails for full sized pictures.)
First, a Condor Nessmuk knife: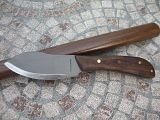 For a knife that costs less than $30, it's not bad. Fit and finish are OK, not great. It's comfortable in the hand and slices pretty well, now that I sharpened it and polished the bevel. (The edge needed work out of the box.) I may smooth the matte finish of the rest of the blade then give it a nice patina with vinegar or mustard. The sheath is good, heavy leather and was stitched well.
Next, we have a Case Trapper with chrome vanadium blades and red jigged bone handles. Workmanship is excellent and both blades came shaving sharp.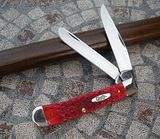 Finally, I put them together with a 'hawk I've had for awhile, for a "Nessmuk Trio."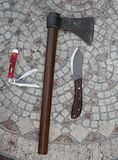 Not much you couldn't do in the woods with these three tools.